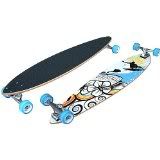 Today at Longboard Reviews I will be reviewing an Atom Pintail Longboard! Keep reading and I'll tell you why this board is pretty much a really ideal beginner longboard.
This is a good beginner longboard. Its specifications make for a board that is what I imagine would be pretty close to perfect for those just starting out at longboarding; let me explain why with this review.
Atom Pintail Longboard Review
First off, let's take a look at what the Atom Pintail Longboard has to offer:
Classic pintail longboard design
39 inches in length
65 millimeter 7A wheels
7.3 pound weight
Maple laminate deck
From a cursory glance at the basic specifications, I can tell you without having to go into too much detail that the Atom Pintail Longboard is a GREAT beginner longboard -- just take a look at the "Choosing a Longboard" page and you'll know why this longboard has specifications that are ideal for starters. Let's not forget how the price is really, really, attractive for someone who's starting out at longboarding, and doesn't want to make a huge investment.
If you're wondering; what kind of tricks and longboarding you'll be able to do on the Atom Pintail Longboard, the video below shows a group of longboarders on pintail longboards, and the Atom Pintail Longboard would be ideal for what they're doing.
Pros and Cons: Atom Pintail Longboard
The versatile Atom Pintail longboard is extremely easy to ride! Even a newbie can get up, out and about cruising on this sleek board. The Atom Pintail Longboard has a pintail design allows for easy cruising, and its length allows you to carve and pump with ease even when you've hardly had any experience with a longboard. It is lightweight too, at a nifty 7.3 pounds, and allows for much greater ease of movement for a beginner new to carving and freeriding -- with this you can easily try downhill riding or even slaloming. Another plus to this is that the board's shape minimizes the amount of wheel bite you will get when carving.
However, no board is perfect, and a downside to the performance Atom Pintail longboard is that its wheels are not very great -- but if you're just starting out this shouldn't bother you -- as a beginner it's good to start out with some cheaper wheels and then decide on better ones once they wear out. So, with an upgrade for the wheels, this beginner longboard can actually be one of your favorites for a really long while.
Pros
Versatile
Good for beginners
Decent price
Cons
You might grow out of it fast, depending on how fast you learn longboarding
Verdict: Atom Pintail Longboard
As I had mentioned, pintail longboards of 37 -- 48 inches in length and 65mm -- 70mm wheels would be ideal for someone looking to try longboarding. Thus, this board fits into the ideal criteria.
Let me sum it up here: the Atom Pintail Longboard has slight shortcomings but has ideal specifications and a great design that seems to be built so even beginners can enjoy their first longboarding experience. It comes at an extremely affordable price and it's without a doubt the best beginner longboard you can get for the price -- perfect if you are just toying with the idea of longboarding.
It seems that I'm not the only one who thinks the Atom Pintail Longboard is a great beginner longboard -- there are plenty of actual customer reviews (see below) that rate this board favorably. Do check this board out if you want a good beginner longboard at a good price!
Where to Buy the Atom Pintail Longboard

Amazon is one of the very few longboard vendors that offer free shipping (longboards can be quite expensive to ship) -- and so I would suggest ordering this board there. Keep in mind that Amazon is known for extremely fast shipping times, and it'll probably take about 4 working days for your order to arrive. Another thing of note is that unlike other vendors, they come shipped with extremely durable Abec 5 bearings and 78A urethane wheels that perform really well.
Click here to see the Atom Pintail Longboard on Amazon

Reviews by actual customers who have purchased the Atom Pintail Longboard:
This board came assembled, and ready to ride, which is why I absolutely love it. It's easy to ride and has a really cool design on the underside -- the pictures don't do it justice. It's a smooth ride and a great starter board, especially for the low price. No wonder it's a bestseller here."
I love this board! I was so happy when I received it. I was addicted right when this board arrived even though it was only my second longboarding experience. This board is totally worth it. It carves really well and has a nice design. I might have to get new wheels soon, but, like I said, totally worth it."
Read more customer reviews for the Atom Pintail Longboard
Searches:
atom longboard review
atom longboards
atom pintail longboard review