Today on Longboard Reviews I'm going to be reviewing a very special board -- I'm talking about the Loaded Dervish Longboard, by Loaded Longboards. In fact, it is one longboard that has garnered heaps of praise from people everywhere and is used even by professional longboarders. Yes, you heard me right -- a longboard favored by pro longboarders can be found online, and can be ordered for a discounted price and with free shipping.
The Loaded Dervish Longboard comes in two types depending on your weight category: the Loaded Dervish Flex 1, and the Loaded Dervish Flex 2.
I'll go into that and more in detail, so read on for my full review of this absolutely incredible longboard -- probably the best one yet!
Loaded Dervish Longboard Review
Now if you're serious about longboarding, the Loaded Dervish Longboard is an all-rounded board that's suitable for any kind of longboarding, be it freeriding or freestyling, carving or cruising, or hillbombing or doing tricks -- this is a nifty longboard that's as versatile as it is easy to ride.
If you haven't heard of Loaded Longboards, they're one of the best longboard manufacturers around, and have produced great, high quality boards that many professionals use -- so I wouldn't expect any less from the Loaded Dervish longboard. Many professional longboarders use their boards. Watch the video below to see two pro longboarders on their Dervishes! Some awesome stuff:
As I had mentioned earlier, the Loaded Dervish Longboard comes in two flexes for longboarders -- the Loaded Dervish Flex 1 Longboard is best for those from 180 to 230 pounds, while the Loaded Dervish Flex 2 Longboard is best for those weighing from 100 to 175 pounds. The fact that Loaded put out two flexes for this board is a testament to its dedication in creating awesome longboards.
Let's take a look at the specifications for this board:
41.5 inch length
8.5 inch width
7 pound weight
Bamboo deck
Comes in two different flexes
Pros and Cons: Loaded Dervish Longboard
The Loaded Dervish Longboard is pretty much one of the best longboards out there today. I'm not being biased here -- it is extremely hard to find a longboard as good as this bamboo masterpiece.
The Loaded Dervish Longboard is a phenom in terms of stability and ease of control. It has a PERFECT flex that makes for easy turns and is extremely ideal for carving -- any kind of carving, in fact. Carving is especially great with the Loaded Dervish Longboard, because the responsiveness of this board will make carving intuitive and easy.
With the possibility to make sharp turns with this, wheel bite became the least of my concerns when trying out this longboard. Its intuitive design means you'll have a lot more confidence with riding, carving and cruising-  a huge morale booster!
It is so low and flexible and lightweight that it turns longboarding into an amazing experience -- you can feel the Loaded Dervish Longboard respond to you. Whirling around on it is a breeze and you'll have no problem doing tricks on it, too. It's a low board so that gives a naturally lower centre of gravity, increasing its stability and also making it far easier for you to kick off than other boards.
I just have one very, very minor gripe with the Loaded Dervish Longboard: it is pretty low, so that means you might get scratches on your deck every now and then. That's not a major concern in my eyes because a longboard is meant to be worn out over time.
Also, if you're looking for a longboard just for cruising around, and for that sole purpose only, I would recommend something else that would come for a cheaper price. The Loaded Dervish Longboard is great for ALL kinds of longboarding -- and that's the beauty of it. If you just want a longboard for getting around, you could find something cheaper. I would recommend the Surf One Robert August II Longboard for that.
Pros
Performs extremely well in almost every aspect of longboarding
Great for carving, cruising, freeriding
Durable and light
Easy to learn on it
Cons
Verdict: Loaded Dervish Longboard
The Loaded Dervish Longboard is probably the ultimate longboard for every kind of longboarding from carving, to riding bowls, to cruising and commuting. It is an absolutely phenomenal board, flexible, fast and intuitive.
Some people may have issues with the price; but as a longboarding enthusiast, I say the price is well worth it -- you'll NEVER find a better longboard than the Loaded Dervish for this price.
On almost every online longboarding source I have come across, the Loaded Dervish Longboard is highly rated and highly recommended. This is by no means an exaggeration. The Loaded Dervish Longboard -- the best longboard ever? I would say so.
Where to Buy the Loaded Dervish Longboard

I would personally recommend Amazon -- they are one of the very few longboard vendors that offer free shipping. which is great since longboards can be quite expensive to ship. Surprisingly, Amazon also offers the lowest prices for the Loaded Dervish Longboard online. One more thing to keep in mind: Amazon has really fast shipping times, and it'll probably take only 4 quick working days for your brand new longboard to arrive.
Click here to see the Loaded Dervish Longboard on Amazon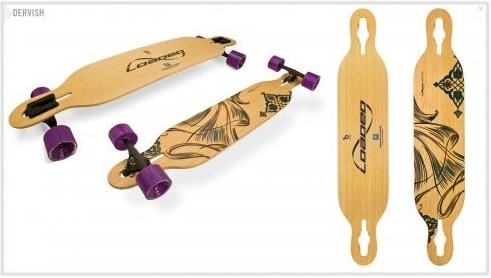 Reviews by actual customers who have purchased the Loaded Dervish Longboard:
…this longboard is without a doubt, worth all that i paid for. Once I got on this awesome board I immediately had one of the best sensations I've ever experienced. The board has an incredible flex -- it feels like I'm gliding around on a nice smooth board, and this is mainly because of the amazing dissipation the Loaded Dervish's design offers. Because of this board I hardly ever drive my car. I ride around on this board instead, because when you're on it, you just feel like you're driving your own mini car under your feet. Definitely buy this board."
I've owned many longboards before, from brands such as Sector 9 and FlexDex, but let me be honest with you: nothing can hold a candle to this board. This longboard comes in a drop through and cut out design -- this make the Loaded Dervish Longboard absolutely AMAZING for carving and easy sliding, and it has just enough flex to give you enough energy with it… at the same time, it easily maintains enough stability for you to pull off cool tricks and some impressive dancing moves too.."
Read more customer reviews for the Loaded Dervish Longboard
Loaded Dervish Longboard - The best longboard ever?

,
Searches:
loaded dervish review
dervish longboard
best loaded longboard