Before I review the Moose Drop Through Longboard, let me just ask: What do you look for in a longboard? Well, it all depends on what kind of longboarding you want to do! Some like the speed of downhill riding and hillbombing, some love just some simple carving and cruising around town, and some just love all the different freeriding techniques you can pull off, and sliding.
Some people love longboards because they can go fast. Really, really fast, many times faster than skateboards, for example. The fastest anyone has been on a longboard, I've heard, is a crazy 75 miles per hour! Let me introduce you to the Moose Drop Through Longboard or Speedboard. While it might not go that fast, it's still a pretty fast board, and a great board for the $100 price tag!
The Moose Drop Through Longboard is a decent all-around longboard that's very suited for going fast. It's cheap, and it's great – amazing for a beginner! Well, read on for this exclusive Longboard Reviews review!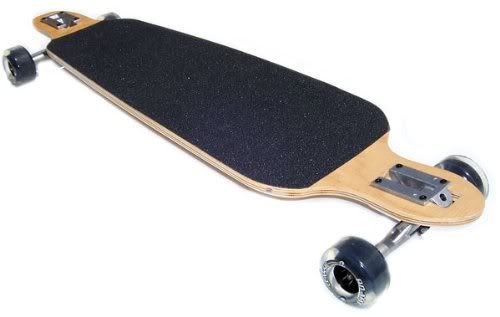 Moose Drop Through Longboard Review
Moose Skateboards are a skateboard/longboard company founded in Canada in 2002, and they have been making good quality longboards ever since. Apparently, their skateboards and longboards can be found in over 700 skateboard stores around the world! Their longboards are a hundred percent Canadian maple decks, which are quite durable and of good quality.
With that short introduction to Moose Skateboards, you should definitely believe me when I say that they make quality longboards you can trust. The Moose Drop Through Longboard is one of these great beginner longboards; their longboards are simple yet great for overcoming that starting learning curve with their forgivingly built longboards. I've featured them recently on my list of Best Beginner Longboards, so check it out if you like.
Let's take a quick look at the specifications for the Moose Drop Through Longboard:
8 Ply Canadian Maple Deck
39.75 inch length
9.75 inch width
Drop through mounting
Black Diamond Grip Tape
Core 7.0 Trucks
76mm 78a Wheels
Amp 7 Bearings
The Moose Drop Through Longboard has a nice width and length that can pretty much suit longboarders of all sizes, and it is a really good beginner's longboard for a multitude of reasons; I will go into the Pros & Cons of this longboard in this next section..
Pros & Cons: Moose Drop Through Longboard
If you're wondering why you should get a drop through longboard, or what a drop through longboard would be good for, it's pretty simple: a drop through longboard means the deck is dropped lower in the middle. The advantage of this is that it makes it lower to the ground and easier to push. It also makes carving easier because adrop through longboard minimizes wheel bite. With the Moose Drop Through Longboard, you'll find it much easier to push the longboard forward, and find it much easier to carve. Also, the Moose Drop Through Longboard is really stable with its drop through mounting – if you're worried about the board wobbling too much when going at higher speeds, the board with its drop through mounting will definitely suit you.
The Moose Drop Through Longboard, for all those reasons above, is a great beginner's longboard! The drop through mounting will make sure you don't wobble too much, and also make for easier carving and pushing. Those are pretty awesome components in picking a good all-around beginner's longboard.
The Moose Drop Through Longboard is also sold as a 'speedboard' at some places, which means it's definitely a decent board that can pick up good speeds. If you want a longboard that can go stable at faster speeds, the Moose Drop Through Longboard is a pretty solid choice.
It's important to note that longboards with drop through mounting don't come cheap most of the time. The Moose Drop Through Longboard/Speedboard comes assembled and ready to ride at just $100. That's an awesome price for a stable speedboard. If you can find a good drop through longboard complete at the same price, leave a comment below! I personally have not been able to find a drop through longboard cheaper than the Moose Drop Through Longboard.
The only problem I might have with this board? The wheels that come with it aren't great. I'd suggest getting some Orangatangs wheels, which are pretty awesome, to go with them – that'll make it the perfect beginner's longboard! I have a page on Good Longboard Wheels if you're interested.
Pros
Drop through mounting at a cheap price
Stable and reliable
Can go at pretty fast speeds
Easy to push with
Easy to carve with
Cons
Verdict: Moose Drop Through Longboard
For the price, you really can't go wrong with the Moose Drop Through Longboard. Stable, reliable, with a wide turning radius. Built for faster speeds. It's a really awesome choice for a beginner's longboard. It's a no brainer why I included on my list of best beginner longboards. It's just a great all around longboard, especially if you're interested in trying out downhill riding, or just carving and cruising. In fact, it's an ideal starter board for all of the longboarding disciplines I jut mentioned! If you need a good beginner's longboard for no more than $150, definitely, definitely consider this quality longboard by Moose Skateboards!
Where to buy the Moose Drop Through Longboard
Amazon is your best bet for the Moose Drop Through Longboard. I did my homework, and here's why:
Free Shipping
Cheapest price for the Moose Drop Through Longboard
Fast shipping: within 3 working days
They also sell all kind of accessories to go with the longboard; including:
Better wheels
Skate bearings and cream
Skateboarding tools to change your wheels
They sell all those for a packaged price, which is awesome, isn't it? Simply put, Amazon is a great choice to get longboards that come in nice beginner packages.
Click here to see the Moose Drop Through Longboard on Amazon
Actual customer reviews for the Moose Drop Through Longboard:
I recently purchased this longboard, and its awesome! Really good stability, impressively sturdy, and fast. Well worth the price and my friends who i lended it to try bombing hills like it so much as well that now they want one!
This is the 2nd longboard I've bought, and iv been riding it every single day since i first got it. It is a great board for beginners, amateurs, or people looking for a fun way to get from point A to point B. Its nicely sized, has a pretty decent flex to boot (however keep in mind that i don't weigh a lot), the wheel cutouts are great for carving and experimenting with different wheels. Since it comes plain, it allowed me to make my own custom design on it. The trucks are perfect. The only gripe I have is that it doesn't have a kicktail – besides that, it's an all-around amazing longboard.
Click here to see more reviews for the Moose Drop Through Longboard
Moose Drop Through Longboard - A Fast Longboard

,
Searches:
drop through longboard
moose longboards
moose drop through longboard review